BOTANY AT DAIRY FARM OFFICIAL SITE
Luxurious Condominium near Hillview MRT
---
Last Updated :
24th March 2023
Botany at Dairy Farm Latest Unit Sold :
#11-07 (3 Bedroom), #07-16 (2 Bedroom), #03-12 (1 Bedroom + Study),
#09-09 (2 Bedroom + Study), #02-22 (3 Bedroom Premium), #01-01 (2 Bedroom + Study),
#06-07 (3 Bedroom), #10-03 (3 Bedroom), #09-26 (4 Bedroom)
---
24-03-23: Get the Best Exclusive Price & Discounts from our Developer Sales Staff, only by prior appointment here.
24-03-23: Our Botany at Dairy Farm Price Chart & Botany at Dairy Farm Balance Unit Chart is now updated and available here.
Latest Unit Availability: Last 194 Units
1 Bedroom + Study : 1 / 36
2 Bedroom : 3 / 34
2 Bedroom Premium : 2 / 36
2 Bedroom + Study : 1 / 34
3 Bedroom : 26 / 46
3 Bedroom Flexi : 32 / 40
3 Bedroom Premium : 57 / 61
3 Bedroom + Study : 20 / 28
4 Bedroom : 41 / 57
5 Bedroom + Study : 11 / 14
10-12-22: In accordance with Government Regulations in the midst of the COVID-19 situation, our showflat will only be accessible by appointment. View our Virtual Showflat Tour and Make an Appointment to view our actual showflat.
10-12-22: Use our Botany at Dairy Farm Mortgage Calculator to calculate the Downpayment and Monthly Loan Instalment.
---
---
Introduction to Botany at Dairy Farm
Botany at Dairy Farm is a new launch condominium development, located at Dairy Farm Walk, Singapore. Developed by one of Singapore most reputable developer Sim Lian Group., The Botany at Dairy Farm Condo is set to be the most exciting property launch in the vicinity.
The Botany at Dairy Farm Condo – Unlocking the Secrets of Nature at Dairy Farm
Botany at Dairy Farm is the newest condo launch by Sim Lian Group, whose last project was the mega development Treasure at Tampines, which is slated as largest condominium development in Singapore by number of units.
Botany at Dairy Farm consists of 386 exclusive residential units in 5 blocks, with varying height 9 / 13 / 14 / 15 storeys. With over 168,597 sqft of prime land, out of which 70% is used for communal facilities, there is plenty of recreational space for residents to relax and enjoy family bonding time. Facilities include Lap Pool, Gymnasium, Jogging Trail, Tennis Court, Grand Lawn, Water Jet Pool, Rock Climb Wall, Spa Bed, Aqua Gym, Co-Working Space, Function Room, and various Garden Pavilions and Lush Landscaping.
Unparalleled Location
Botany at Dairy Farm Development is well located, with Hillview MRT Station within 10 minutes' walk away. From Hillview MRT Station, Central Business District, Marina Bay and Chinatown are a quick 20-30minutes away. For drivers, major expressways BKE, PIE and KPE provides easy accessibility to all parts of Singapore.
Botany at Dairy Farm Singapore offers a serene and tranquil location at the Dairy Farm Estate, next to the green expanse of the Bukit Timah Nature Reserve, Pierce Reservoir Park Nature Reserve, and the Chestnut Nature Park. Many trail walks and hikes await the adventurous, and families can also enjoy outings amidst the peace and quiet.
Amenities are aplenty, with the Dairy Farm Mall at the doorstep, with restaurants, supermarket, and many shops for daily sundries. The Rail Mall and HillV2 Mall provides more options for dining and entertainment, and full shopping mall experience can be found at Hillion Mall, Bukit Panjang Plaza and Junction 10 Mall. There are top educational institutions near The Botany Condo, from primary school to tertiary education, such as CHIJ Our Lady Queen of Peace, Zhenghua Primary School, Assumption English School, Jurong Pioneer Junior College, and National University of Singapore.
Attractive Price and Floorplan Layout
The Botany at Dairy Farm Residence offer a wide range of unit types and unit sizes, with excellent squarish floorplan layouts. From 1 Bedroom + Study units (506 sqft) to 5 Bedroom units (1,765 sqft), there are various selections, such as units with study area, and units with flexi-rooms, which can be used as a study room, a guest room, or a storeroom. There is an ideal unit for every single, couples, and families of all sizes. Purchasers can also select their preferred views, with panoramic pool views, and units on higher floors will be able to enjoy stunning nature views.
Botany at Dairy Farm Residences is very attractively priced. With the premium imported kitchen appliances and sanitary fittings, together with the stellar track record of decorated developer Sim Lian Group, purchasers can expect outstanding building quality and workmanship, giving assurance of good value for their purchases here.
Editor's Review: Botany at Dairy Farm is the perfect choice for those who want to enjoy the convenience of city living while still having a peaceful environment. It is located in a lush, green environment, with panoramic views of the surrounding Bukit Timah Nature Reserve and Upper Pierce Reservoir and offers a wide range of amenities. Finally, it is conveniently located close to the city, with easy access to shopping, dining, and entertainment.
Contact Us for Botany at Dairy Farm Condo Showflat
Our Botany at Dairy Farm Showflat is available for viewing by appointment (10am – 7pm). Do contact us to make a showflat appointment.
---
Botany at Dairy Farm Location Map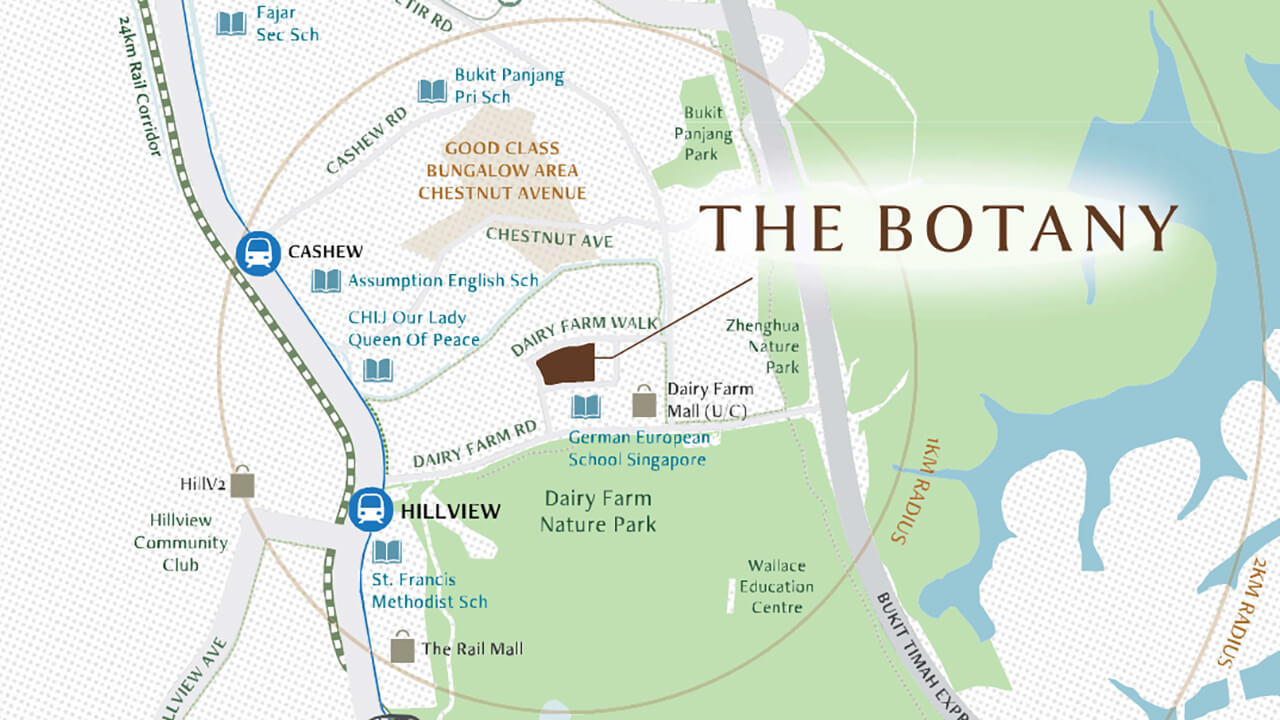 Click Here for Enlarged Botany at Dairy Farm Condo Location Map
---
Botany at Dairy Farm Project Info
| Project Name: | The Botany at Dairy Farm |
| --- | --- |
| District: | 23 |
| Developer: | Sim Lian JV (Dairy Farm) Pte. Ltd. |
| Address: | 3 - 11 Dairy Walk |
| Tenure: | 99 years leasehold wef. 8 Jun 2022 |
| Site Area: | 15,663.2 sqm / 168,598.68 sqft |
| Type of Development: | Private Condominium |
| No. Of Units: | 386 residential units |
| No. of Blocks/Storeys: | 5 Blocks of 9/13/14/15-Storey Residential Condo Development with Communal Facilities & Basement Carpark |
| No. Of Carparks: | 386 carpark lots, 4 EV lots, and 9 handicap lots |
| Plot Ratio: | 2.1 |
| Architect: | M.A.N Architects LLP |
| Landscape Consultant: | Ecoplan Asia Pte. Ltd. |
| Main Contractor: | Sim Lian Construction Co. (Pte) Ltd |
| C&S: | KCL Consultants Pte. Ltd. |
| M&E: | Kunda Consulting Engineers |
| Conveyance Solicitor: | Dentons Rodyk & Davidson LLP |
| Facilities: | Lap Pool, Star Gazing Lawn, Picnic Pavilion, Grand Lawn, Water Jet Pool, Rock Climb Wall, Family Pool, Aqua Gym, Kids' Pool, Tennis Court, Gymnasium, Function Room |
| Developer Licence: | C1439 |
| Project Account No.: | DBS Bank Ltd for Project A/C No. 003-700158-9 of Sim Lian JV (Dairy Farm) Pte. Ltd. |
| Expected Date of TOP: | 31-Dec-27 |
| Expected Date of Legal Completion: | 31-Dec-30 |
---
Botany at Dairy Farm

Proudly Developed By:

---
---